Eigentlich handelt es sich hierbei um ein sehr herbstliches Gericht, da ich aber vom Herbst noch ein paar Kürbisse eingelagert habe finde ich es auch jetzt noch sehr passend. Wenn es draußen kalt und ungemütlich ist kann man sich sehr gut mit einer hausgemachten Kürbissuppe wärmen und es sich zuhause gemütlich machen.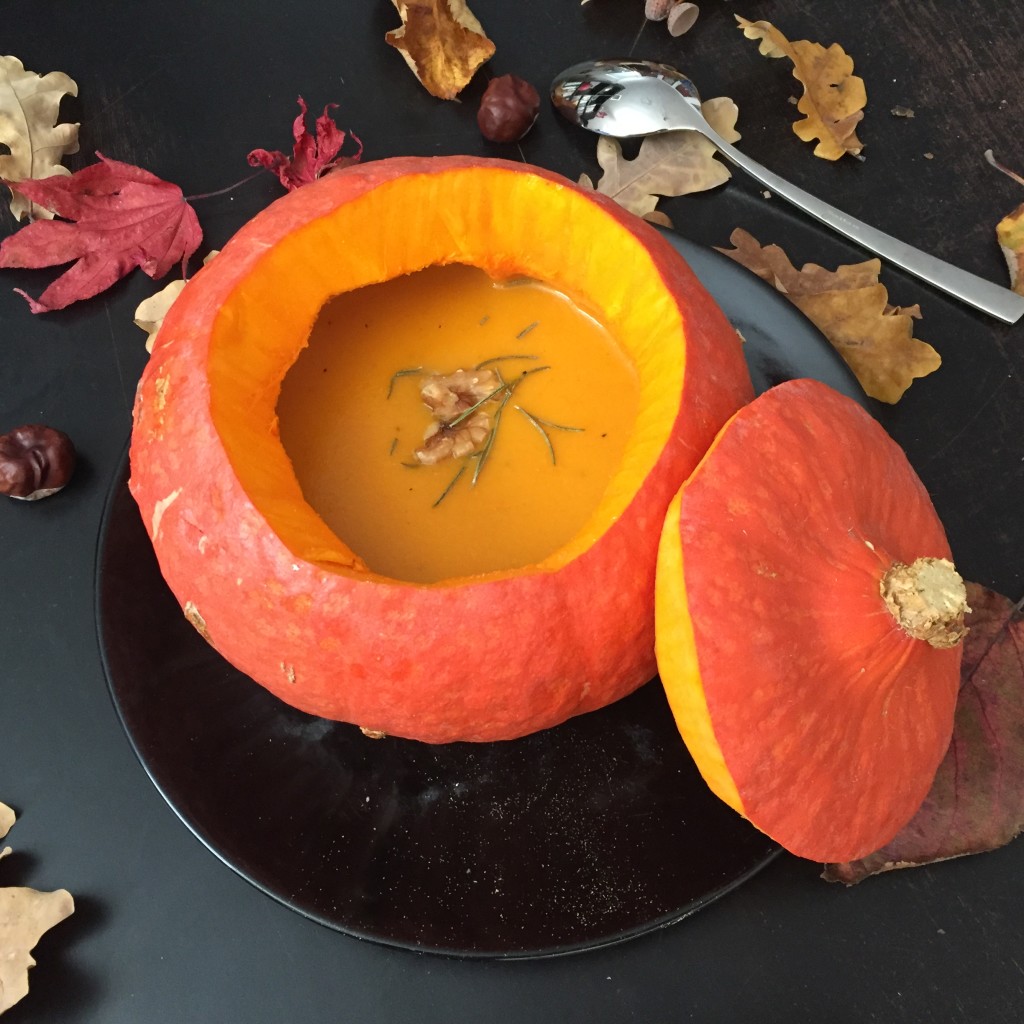 Zutaten: 
– 1 kg Kürbis (Hokkaido)
– 2 mittelgroße Zwiebeln
– 4 mittelgroße Kartoffeln
– 2 Karotten
– 30 g Kokosöl
– 1 1/4 Liter Wasser  
– Salz,  Pfeffer,  Zucker,  Muskatnuss
– 100 ml Soja oder Mandel-Milch
– 2 EL Petersilie, gehackt
Anleitung:
Den Kürbis halbieren, die Kerne entfernen und ihn grob in Stücke schneiden (Hokkaido-Kürbis : die Schale kann bei diese Art von Kürbis mit verarbeitet werden ). Zwiebeln, Kartoffeln und Möhren schälen und in Würfel schneiden . Die gewürfelte Zwiebeln in etwas Kokosöl anbraten bis sie glasig werden. Das restliche Gemüse hinzufügen und zusammen mit dem Kürbis anbraten. Das Wasser hinzugeben und alles für ca. 20 Minuten kochen. Alles mit einem Stabmixer pürieren  und nach Bedarf mit den Gewürzen abschmecken. Schließlich Sojamilch unterrühren und das ganze mit Petersilie oder anderen Kräutern garnieren.
Ingredients:
-1 kg pumpkin (Hokkaido)
-2 medium onions
-4 medium potatoes
-2 carrots
-30 g coconut oil
-1 1/4 liters of water
-salt, pepper, sugar, nutmeg
-100 ml soy or almond milk
-2 tbsp parsley , chopped
Instructions:
1. Divide the pumpkin, remove the seeds from it and grate coarsely (Hokkaido pumpkin: the shell can be processed with)
2. Onions, potatoes and carrots , peel and dice.
3. Fry the diced onion in a little coconut oil. Then add the other vegetables and cook with.
4. Add the water and cook everything for about 20 minutes.
5. Puree with a hand blender and season as needed with the spices.
6. Finally, stir the soy-milk and sprinkle with parsley .
-enjoy it!